Our beloved former HSHV cat, Dante, passed away at the age of 16. Our home and our hearts felt empty without him. We decided to get two kittens this time out, and signed up to go to the Tiny Lions Lounge and Adoption Center to find them.
There we got to socialize with all the kittens, and found Annabella (Clover) and Malcolm (Gritty) and they stole our hearts.
We still miss Dante, but our home and our hearts are no longer empty. These two have helped us begin to heal and they are a joy to have around.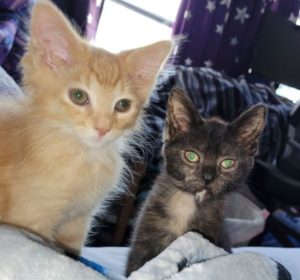 Clover & Gritty, now Annabella & Malcolm