I adopted Nimbus in March, just before the lockdown orders went into effect and I was just one week into work from home. He was a five year old former stray who cozied up to me right away. Through the months March to July, he was my primary companion. In August, I decided to road trip with him to see family. But when we stopped along the way to see my best friend, Nimbus escaped.
We searched in the hours and days after for him, with no sign of him. By September when I returned home, I decided to adopt again — this time a six month old puppy who needed to be rehomed! So through the next months I worked on training up and bonding with my new pet, uncertain about Nimbus' fate.
The week before Christmas, as I prepared to return to family for the holidays, I got a call from my friend that she had a cat trapped in her bathroom, and could I video chat to see if it was really him? All the signs were there — the nicked ears, missing canine, lighter colored nose — and I knew it was my four and half months lost kitty!
By week's end I was able to see him again. When I plopped down on the floor of my childhood bedroom to wait him out, he barely hesitated before he walked over and rubbed against me. Now we have a new challenge, adapting dog and cat to each other, but I got a little Christmas miracle this year.
(Picture is Nimbus lounging around post-reuniting)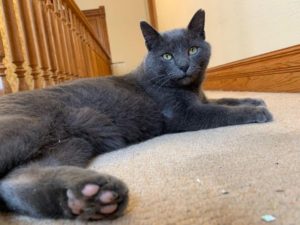 Craig now Nimbus