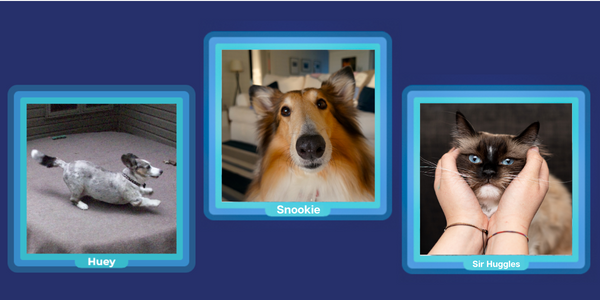 What are digital collectibles? And why offer one to memorialize pets?
We are always looking for meaningful ways to help people grieving from the loss of a beloved animal companion.  Digital collectibles use Web3 technology to create a unique, unchangeable identifier for a one-of-a-kind memorial for a lost pet. The image's identity is stored forever on the Solana blockchain. These memorials also provide the added satisfaction of knowing that the love for the animal you lost is helping care for animals in need today.
What's a blockchain?
It's a decentralized database that exists on computers across the globe. The goal is to create a trusted ledger that tracks ownership of digital items, which will exist forever and can be accessed from anywhere. So it's an ideal home for a memorial that will always be treasured and shared.
What do you mean by "mint"?
After you create and purchase your digital collectible, it will be minted. This means your memorial now has a permanent home on the blockchain, with a unique, unchangeable identifier that establishes your ownership.
Are these digital collectibles meant for resale or speculation?
These collectibles are meant to be personal commemorations to be used as the owner sees fit.  The goal of this initiative is to use promising new technology in an intimate way to help mourning pet owners while leaving a legacy to help shelter animals.
Do I need Bitcoin or some other cryptocurrency to buy this collectible?
No, the animal lovers at AirCatch have donated the use of their innovative technology that makes acquiring and holding digital collectibles as simple as possible. All you need is an email address and a method of payment for your donation. Your collectible will be issued to an AirCatch digital wallet; you can keep it there or send it to another wallet if you wish.
How much are they?
To begin building our Love Stays Here – Digital Memorial Wall, we're inviting the first 25 memorials to be created for a $5 donation, though you're welcome to donate more if you wish. The minimum donation may increase after this initial period. All donations go directly to helping the animals at HSHV and are tax-deductible to the amount allowed by law.
Is my donation for this digital collectible tax-deductible?
All charitable donations to a 501(c)3 nonprofit like HSHV are tax-deductible as allowed by law. These collectibles are entirely commemorative. While they will be priceless to people who love pets, there is no intended resale value, and the fair market value is $0.