We adopted Miss. Elizabeth in late March of 2020. It was just a few days before the Governor shut down our state due to COIVD-19 and we had just lost our previous HSHV alum, who had been an important member of the family for over 11 years.
Knowing our home would be too empty, and sad, during the lockdown we decided to act fast. When I called HSHV to check on adoptions there were only a few adult dogs available. Fortunately Lizzy (Dinkley at the time) was one of them.
We still miss our last dog everyday but Lizzy has brought us such happiness through these most difficult of months. She was ANOTHER blessing to our family.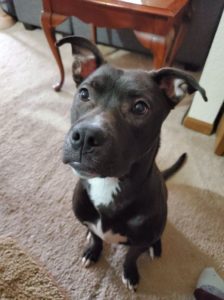 Dinkley now Miss. Elizabeth (Lizzy)