I had been wanting to adopt another dog a few months after adopting our first boy from HSHV, but my boyfriend and I agreed we'd wait 2 years before doing so…unless by some far-fetched chance a dog came through who looked identical to our current dog, Benji. We knew this was a stretch, but I was determined to add another to our family sooner so I made sure to keep up with HSHV's Facebook page.
I saw it was HSHV's 10th anniversary of being in their new facility, and they put out this wonderful video of the pets they've helped and healed throughout the year. In that video I saw this broken, skinny, mange-covered dog in one of the clips. It was hard to tell because his fur was so dull, but I thought his coloring may have resembled that of my dog Benji. Immediately I asked my boyfriend if he wanted to go to the shelter to see if they had any dogs that looked like Benji, and he agreed knowing we likely wouldn't find another tri-color Bully (I didn't mention to him I had seen the video on their page, but then again, I also didn't know when the video was created and if that sweet little doggo was still available).
Needless to say, in the 2 of us walked to visit with the dogs, and out the 3 of us walked out as a family. Butters, formerly Elijah, has been an absolute joy. Being deaf, he hears with his heart and has picked up on sign language very quickly. He's gained so much confidence and is no longer that shy boy who would timidly freeze and sit down in confusion.
I remember the first time he wagged his tail, it was a HUGE deal! He went from 19 lbs and covered in mange to a happy & playful 45 lbs cuddle bug. Butters is his mom's shadow and goes everywhere she goes. He also loves to swim, play with his brother, dig through his toy box, and take boat rides. Thank you HSHV for bringing this muscley bundle of love into our lives!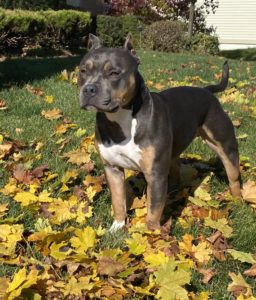 Elijah now Butters