(July 2, 2019) – "Animals depend on us," says Tanya Hilgendorf, CEO/President of the Humane Society of Huron Valley (HSHV). "This July 4, we're celebrating all the people who've made wonderful things happen for the animals in our community."
Donors, adopters, volunteers and staff are among the many folks celebrated in HSHV's 2018 annual report, and whom HSHV credits with making animals' lives better.
"Last year presented some of our greatest challenges yet," says Hilgendorf. "Hundreds of additional animals came through our doors than in the year previous, and a lot more cruelty reports came in. We investigated and rescued nearly 500 animals from horrible conditions. But it's also the year of record-breaking compassion."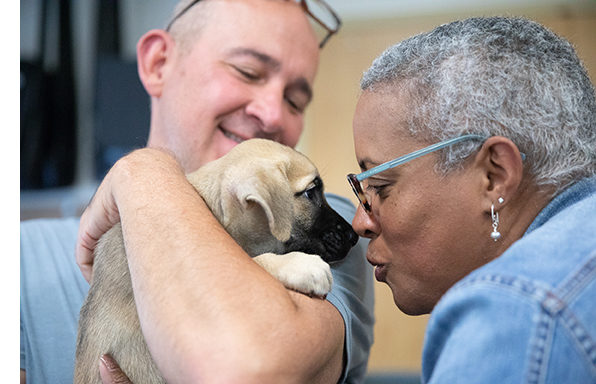 Nearly 2,500 volunteers donated their time to HSHV in 2018—the equivalent of more than 60 full-time workers. Among them are animal foster parents, who open their homes to rescued animals needing quiet repose or socialization outside what a bustling shelter can do.
"Our exceptional services and ability to do more each year is due to the love, generosity and dedication of literally thousands of people who work at or support HSHV and who care deeply about animals in need," says Hilgendorf.
Read more in HSHV's most recent annual report: www.hshv.org/annualreport.
About The Humane Society of Huron Valley:
The Humane Society of Huron Valley, located in Ann Arbor, is an independent 501(c)(3) non-profit organization and relies solely on the generosity of our supporters to provide critical community programs and services. HSHV is an award-winning organization, recognized for our best practices and highest animal "save-rate" among all similar shelters in Michigan. Charity Navigator, the nation's top charity evaluator, awarded HSHV a 4-star ranking, the highest possible. The mission of HSHV is to promote the loving, responsible care of all animals in our community. HSHV is not affiliated with any other humane organization and does not receive funding from the United Way. More information can be found on HSHV's website (hshv.org) and on our annual report (www.hshv.org/annualreport).
###