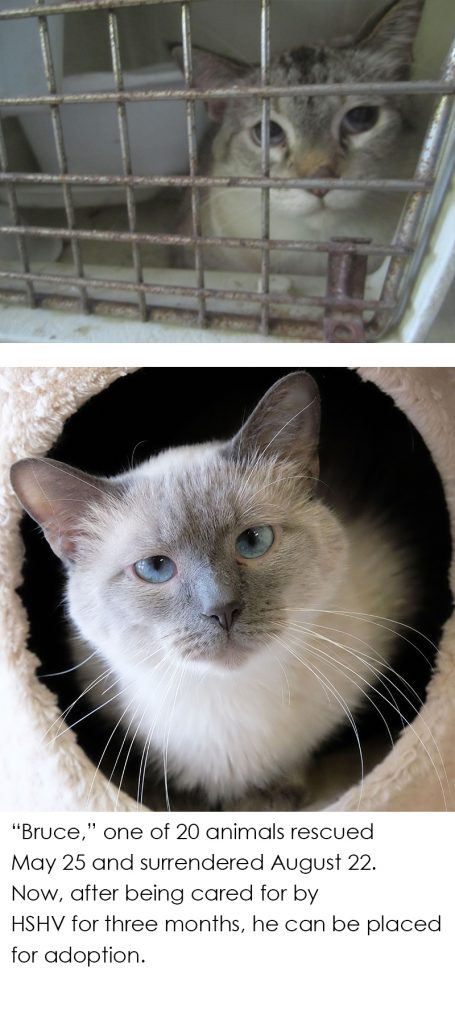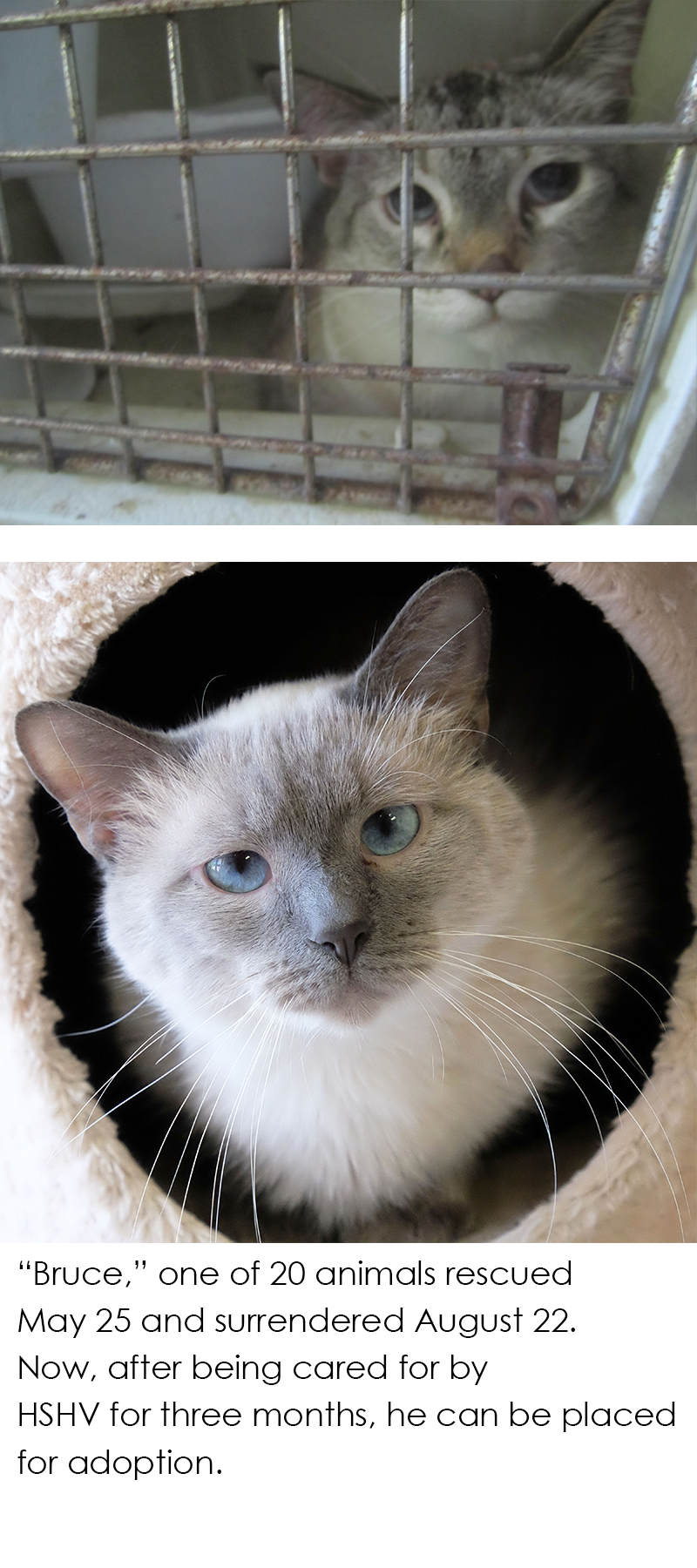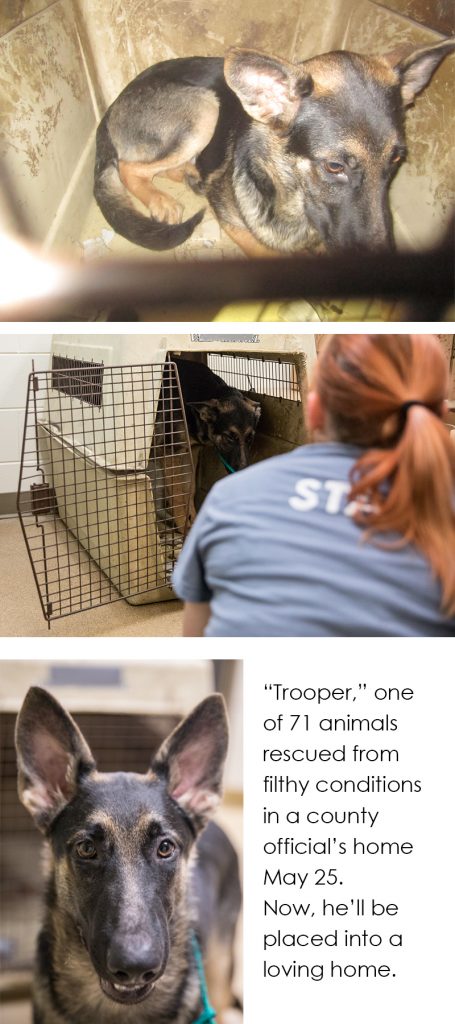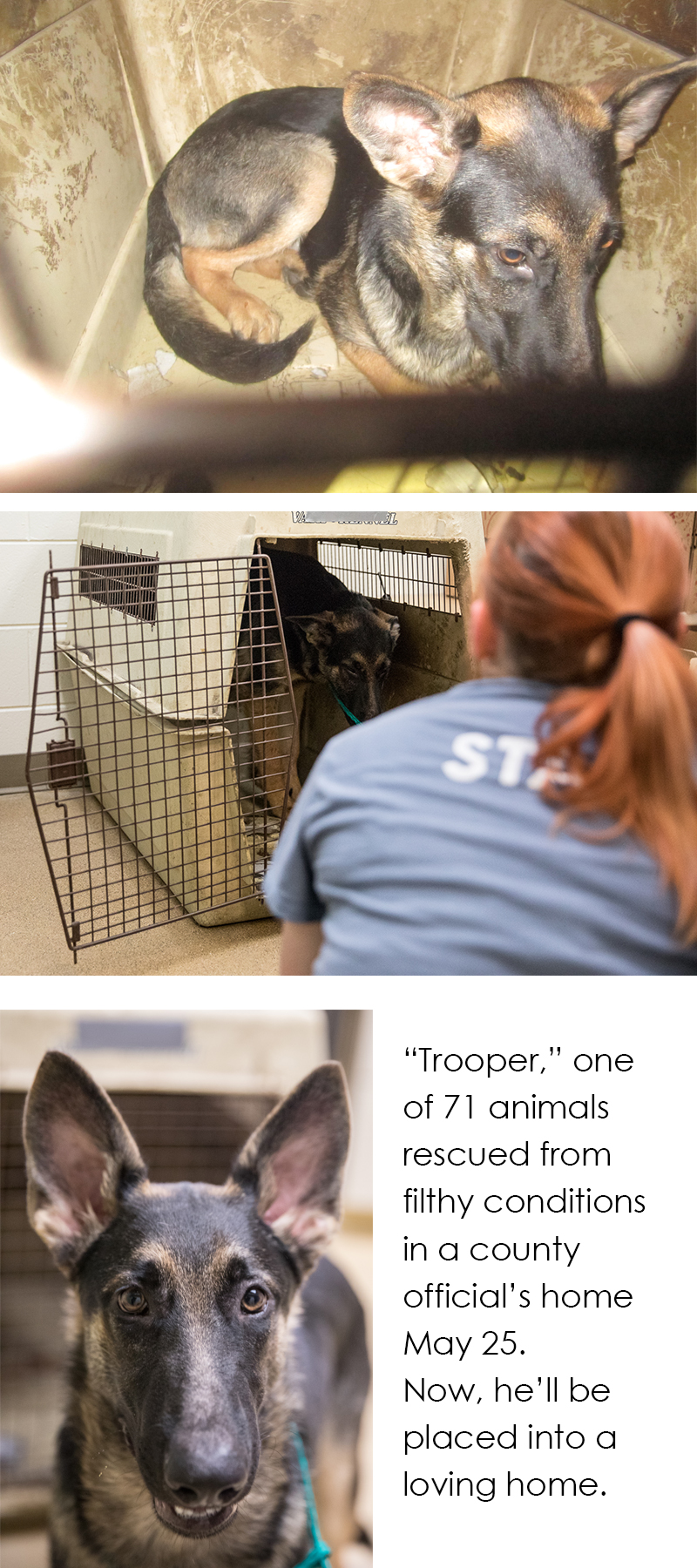 Ann Arbor, MI (August 24, 2018) – Acting on a search warrant, the Humane Society of Huron Valley (HSHV) investigated the home of Augusta Township Supervisor Brian Shelby, and rescued 71 animals from unsanitary, overcrowded and neglectful conditions May 25.  Brian Shelby and his wife Tammy now face three (3) felony counts of animal neglect to 10 or more animals, and seven (7) misdemeanor counts.
The owners immediately surrendered 51 of the animals, who went up for adoption soon after. Twenty of the animals remained in HSHV's custody and care. This Wednesday, August 22, during a scheduled hearing with Judge Simpson of the 14A1 District Court, the owners agreed to surrender the rest of the animals to HSHV, including eight cats, eight dogs, and four exotic birds.
Since the May 25, the animals have been with the Humane Society of Huron Valley receiving needed medical and behavioral care. Now, three months later, they can finally be placed for adoption into loving homes.
Under Michigan Penal Code Act 328 of 1931 Section 750.50, failure to provide adequate care involving 10 or more animals constitutes a felony, punishable by imprisonment of up to four years and/or a fine up to $5000 and/or community service for up to 500 hours, plus possible costs of prosecution. The defendants' criminal court case hearing is scheduled for Thursday, September 27 at 9:30 a.m.
"A big challenge to pursuing animal cruelty charges is the lengthy sheltering time often required.  Animals are not meant to live in shelters — even beautiful, caring ones like HSHV. It's difficult to keep them healthy and happy over many months. We are grateful to the Washtenaw County's Prosecutor's office for pursuing civil forfeiture and to Judge Simpson. Now, the animals can find the loving families they deserve," said Tanya Hilgendorf, HSHV's President/CEO.
About The Humane Society of Huron Valley:
The Humane Society of Huron Valley, located in Ann Arbor, is an independent 501(c)(3) non-profit organization and relies solely on the generosity of our supporters to provide critical community programs and services. HSHV is an award-winning organization, recognized for our best practices and highest animal "save-rate" among all similar shelters in Michigan. Charity Navigator, the nation's top charity evaluator, awarded HSHV a 4-star ranking, the highest possible. The mission of HSHV is to promote the loving, responsible care of all animals in our community. HSHV is not affiliated with any other humane organization and does not receive funding from the United Way. More information can be found on HSHV's website (hshv.org) and on our annual report (www.hshv.org/annualreport).
###