April 6, 2020 (Ann Arbor, MI) – Like many other animal shelters in Michigan, HSHV is offering only essential services and following all official recommendations to stop the spread of COVID-19.
Adoptions and animal intakes are by appointment only. The outpatient veterinary clinic is no longer performing outpatient sterilizations or other non-essential exams. All onsite programs and events have been canceled and HSHV's cat cafe, Tiny Lions Lounge and Adoption Center, remains closed until further notice.
But, during this time of social isolation, community members can still connect with animals and people from the comfort of their couch.  HSHV has gone virtual!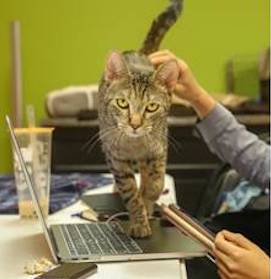 Our popular, award-winning Humane Education program is providing fun, educational activities for youth like Bedtime Stories, enrichment videos, and a Call for Creativity contest for youth ages K-12.   Animal photography classes, science lessons and more to launch in the coming weeks.
Now might be a great time to teach your dog or cat manners or new tricks. Some HSHV dog training classes have moved online and our website provides an extensive behavior and training library.
Potential adopters could always see animal pictures and descriptions on our website and social media.  In addition, we're regularly posting videos of our adoptable animals on Facebook and Instagram pages.  Also look for animal updates and features.
Although onsite volunteering has stopped for now, foster training continues online with nearly 250 people completing in the last two weeks.
Walk and Wag, HSHV's largest fundraiser of the year, has transitioned to a virtual event on May 16th.  Participants continue fundraising and earning milestones while completing the 5k or 1 mile walk on their time.
HSHV's Outpatient Veterinary Clinic has implemented curbside appointments for sick or injured animals and recently started telemedicine appointments for owners who are at higher risk of transmitting COVID-19.   (Please call the Clinic at (734) 662-4365 for more info.  Bountiful Bowls, our free pet food assistance program, is also curbside.  Please call 661-3528 for food assistance info.)
"HSHV is still here for the most critical needs of animals in our community.  But we aren't just an animal shelter, a rescue service or a vet clinic.  We're an animal welfare center offering education and support to humans of all ages in order to help create a more humane world," said Tanya Hilgendorf, HSHV's CEO.
"We have a team of incredibly creative and dedicated staff and they're finding new and fun ways to reach the community.  It's so hard to be stuck at home all the time.  We want to help support the kids out of school right now, but hope all of the animal-loving community will find our virtual services valuable and interesting."
Most HSHV virtual activities are available through the humane society's Facebook page or YouTube channel. Please visit www.hshv.org in the coming days for more information.
About The Humane Society of Huron Valley:
The Humane Society of Huron Valley, located in Ann Arbor, is an independent 501(c)(3) non-profit organization and relies solely on the generosity of our supporters to provide critical community programs and services. HSHV is an award-winning organization, recognized for our best practices and highest animal "save-rate" among all similar shelters in Michigan. Charity Navigator, the nation's top charity evaluator, awarded HSHV a 4-star ranking, the highest possible. The mission of HSHV is to promote the loving, responsible care of all animals in our community. HSHV is not affiliated with any other humane organization and does not receive funding from the United Way. More information can be found on HSHV's website (hshv.org) and on our annual report (www.hshv.org/annualreport).