Ann Arbor, MI (October 17, 2019) – The Humane Society of Huron Valley's (HSHV) second annual Humane Youth Awards recognize three local teens who are working to make a more compassionate community for both humans and animals.
Katie Moore, 16, has been a Junior Volunteer at HSHV for four years and has devoted over 300 volunteer hours to the animals. Cats are her particular favorite, and she has become a staple at Tiny Lions cat café. Katie also fosters kittens and participates on her school's Link Crew. HSHV is proud to name her the 2019 Humane Youth Award winner.
First runner-up Kaitlin Barrett-Huff, 17, is often found caring for the cats at HSHV with a smile on her face. She also volunteers on C.S. Mott Children's Hospital's Teen Advisory Council, with her school's Link Crew, and with Therapeutic Riding, Inc. Her work to improve the lives of others is inspiring to everyone who knows her.
Second runner-up Megan Kowalski, 13, joined HSHV's Junior Volunteer team just a year ago and has already completed over 100 hours of volunteer service. Megan also raised nearly $400 for HSHV's annual Walk and Wag event in May, making an enormous difference to animals in need.
"It was so inspiring to read all of the nominations, and hear about the kindness and compassion that young people are spreading throughout our community," says Karen Patterson, VP of Volunteers and Humane Education at HSHV. "We are thrilled to be sharing some of their stories, as they make us all hopeful for the future!"
The winner will be recognized at HSHV's annual gala fundraiser, the Compassionate Feast featuring the host of Animal Planet's "My Cat From Hell," Jackson Galaxy.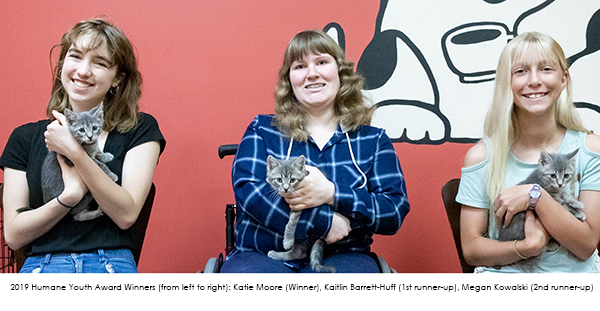 About The Humane Society of Huron Valley:
The Humane Society of Huron Valley, located in Ann Arbor, is an independent 501(c)(3) nonprofit organization and relies solely on the generosity of our supporters to provide critical community programs and services. HSHV is an award-winning organization, recognized for our best practices and highest animal "save rate" among all similar shelters in Michigan. Charity Navigator, the nation's top charity evaluator, awarded HSHV a 4-star ranking, the highest possible. The mission of HSHV is to promote the loving, responsible care of all animals in our community. HSHV is not affiliated with any other humane organization and does not receive funding from the United Way. More information can be found on HSHV's website (hshv.org) and in our annual report (www.hshv.org/annualreport).