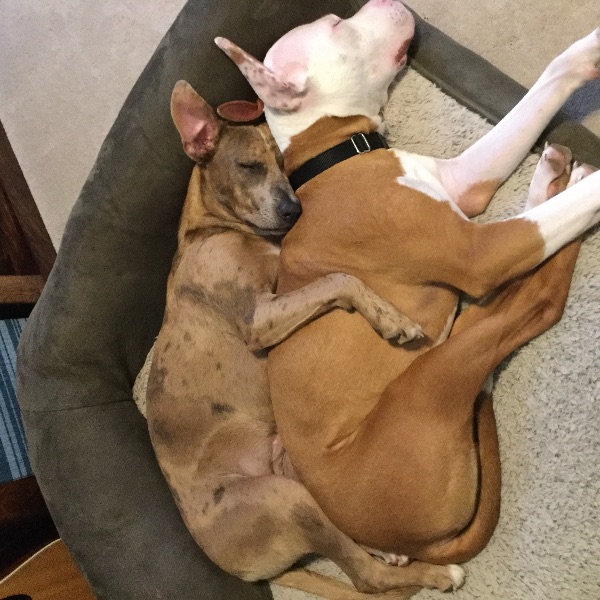 It's hard to believe that we only adopted Otis (formerly Legs) only 6 weeks ago because he feels like he's been part of our family for years! I know he was meant to be with us.
I had begun searching for a partner to my other puppy because she had more energy than my older dog could keep up with, but I also had that nagging feeling in my heart that I needed another dog… You know, it's like when you know you're ready to have kids and you find yourself so anxiously, impatiently waiting! For me, it has been the same with my animal loves.
I initially saw Otis's picture when he came into HSHV as lost, and I had to resist posting a question about how long I had to wait to adopt him since, truly, I would hope that he'd be found by his people first. To make it worse, we had a wedding that took us out of state for a week, and I couldn't help but think about his picture the whole time I was away, worried that he'd be gone before I got home.
Much to my surprise, he was still there, no doubt waiting for me! He had some recovery to do as he had pneumonia, and so he couldn't meet his dog siblings for a while, but it also gave my family and me time to bond with him, cuddle him, and make him feel safe and cared for in his new home. When it was finally time to introduce Otis to our other dogs, we were so happy to see how well he fit in. In fact, he took to our puppy so quickly and lovingly, it was kind of embarrassing to watch! They would roll around together, kiss (not kidding, licking each other's tongues!) and cuddle all the time. They still do! On the flip side, he quiets down and is more gentle and easy with our older dog. It's perfect!
He was our missing piece and now we can't imagine life without him. Thank you to HSHV for everything they do for these animals, and specifically for providing the care and medical treatment Otis needed to get well. We're forever grateful! (Side note – Otis is the little spoon and this photo is completely unstaged, pure love!)
Legs now Otis