About one year ago, on July 15, 2020, I went to HSHV with my brother to simply look at what kinds of cats were up for adoption. I was not looking to adopt one that day, but to simply look at my options. I knew I wanted a girl cat and that I wanted an adult cat, because adults have a harder time getting adopted compared to kittens. After taking a look around and meeting lots of cats and kittens, I walked into room and saw a skinny, black cat playing by herself in the back corner of the room.
I asked to hold Marvelous Mrs. Maisel, and when I opened the door to her cage she almost leaped into my arms. She seemed tired and sore, and I learned later that she'd had emergency surgery and tick treatment as well. This little kitty in my arms was so kind and sweet to a me, even as a stranger. I just knew I needed her in my life.
Before leaving HSHV I was made aware of potential health problems that Mrs. Maisel had. This worried me, but I decided to take a leap of faith and adopt Mrs. Maisel anyways. So on that day I became a cat mom.
While checking out I was asked if I wanted to keep or change Mrs. Maisel's name. I definitely wanted to change it and I had been pondering names for about a month in advance. Settling on the name 'Louise', that was what this little furball was to be called for the rest of her days. The vintage name, Louise, ended up fitting her super well. She has an old soul in a relatively young body, only 3 years old when I adopted her and 4 years now. Louise has brought so much joy into my life over the last year and is so hospitable and lovely to everyone she meets. Despite her initial medical scares, her past did not define her. Louise has become a beautiful and independent cat who loves to play by herself, with any human and with her recently adopted sister, Meiko!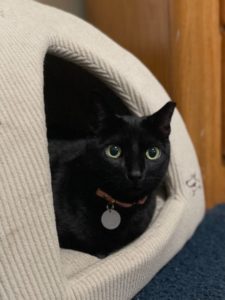 Marvelous Mrs. Maisel now Louise