Two years ago I went to HSHV to look at some puppies with a friend. My old dog had died months earlier, and I was beginning to think about a new one.
In the last pen of the puppy area was a small, ragamuffin with a crooked underbite and a slightly off-center button nose. His name was Paploo, and he was a stray, estimated to be between 8-10 years old. As we were visiting, an employee told me about their senior-to-senior program. This fabulous program waives the adoption fee if a senior human adopts a senior pet. ❤ As luck would have it, I'd just had the birthday that made me eligible (62 btw 😊). It seemed meant to be but I had to wait several days as Paploo had not been neutered and needed a medical exam.
I left HSHV and IMMEDIATELY began questioning my decision. Why had no one claimed him? What if he's a holy terror? What about the LARGE spoiled cat?
On homecoming day, I picked him up and brought him home. The cat was confused by the tiny thing that smelled like a dog but certainly couldn't be one. The dog may have had cat experience as he wasn't particularly concerned about the big guy three times his size.
After a few days and many suggestions, Paploo became Scout which he readily responded to. Any concerns were quickly resolved. He'd obviously been trained and well cared for. Many people are surprised to learn I hadn't had him since he was a pup. He's my BFF and a great companion.
I've been a fan, volunteer and supporter of HSHV for many years, and this guy is just one of the reasons. As our gotcha anniversary nears, I thank you HSHV ❤❤🐱🐕🐈🐶 with a shout out to my friend Rebecca who was supposed to talk me out of getting a dog😘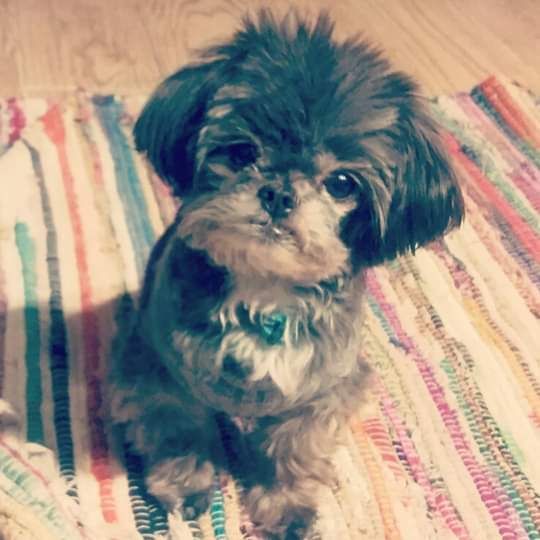 Paploo now Scout