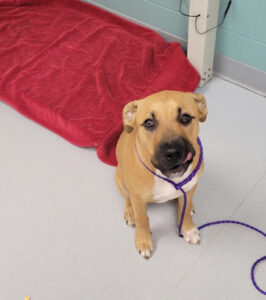 Ann Arbor, MI (July 27, 2023) – The Humane Society of Huron Valley (HSHV) is seeking help from the community on an animal cruelty incident that happened Monday. A puppy was running loose in the Carrot Way Apartments parking lot (1731 Dhu Varren Rd, Ann Arbor). Witnesses reported seeing a man cruelly kicking the puppy before abandoning him, then fleeing the scene.
The tan and white male puppy, approximately 5 months old, is now in the care of the Humane Society of Huron Valley, receiving medical attention, nourishment, and behavioral support.
Anyone with information related to this incident is strongly encouraged to contact HSHV's Cruelty and Rescue Department at (734) 661-3512. Alternatively, information can be reported online at hshv.org/report. All tips and leads received will be investigated.
"While this could have been worse, it also could have been much better," says Tanya Hilgendorf, HSHV's CEO. "Though our hearts ache for this puppy who endured such abuse, we are so glad he is safe now with us, where we can pour our love on him and help him find the great home he deserves."
HSHV's Cruelty and Rescue line is open 24 hours, 7 days/week, and animal cruelty investigations are funded solely through donations.
###
About The Humane Society of Huron Valley:
The Humane Society of Huron Valley, located in Ann Arbor, is an independent 501(c)(3) non-profit organization and relies solely on the generosity of our supporters to provide critical community programs and services. HSHV is an award-winning organization, recognized for our best practices and highest animal "save-rate" among all similar shelters in Michigan. Charity Navigator, the nation's top charity evaluator, awarded HSHV a 4-star ranking, the highest possible. The mission of HSHV is to promote the loving, responsible care of all animals in our community. HSHV is not affiliated with any other humane organization and does not receive funding from the United Way. More information can be found on HSHV's website (hshv.org) and on our annual report (hshv.org/annualreport).