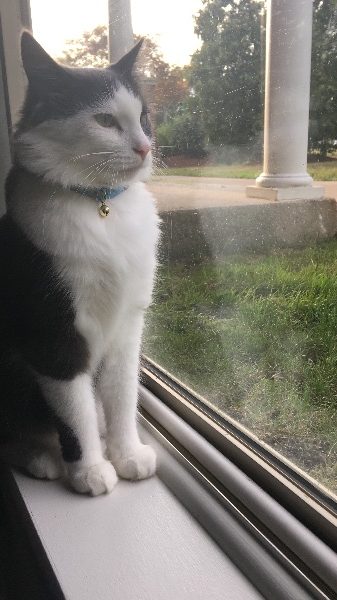 It was around 11 PM when I saw a white and grey cat in a Tim Horton's parking lot while my friend was driving us home. I gasped, "Oh my god, that's a cat!" My friend sighed. "Do you wanna stop?"
After roughly two hours of talking to the cat, befriending them, feeding her, etc. we sent her home with my sighing friend for the night so we could bring her to HSHV the next day.
Our sweet and fluffy friend stayed at HSHV for barely a week; she was dubbed Quigley, and we were all laughing about how she was a boy (we had called him "Mama" or "Jester" when we rescued him because I accidentally assumed he was a girl!). We were told he was okay to be adopted and we immediately came and picked him up.
Renamed Percival or Percy, he is now the most affectionate and sweet baby. He rubs ALL over our legs every morning, streeeetches when he sleeps, and loves the cat tree I recently labored over building for him. We are so so lucky to have him in our little home, my brother, our best friend, and I could not possibly be prouder cat parents!
Quigley now Percy