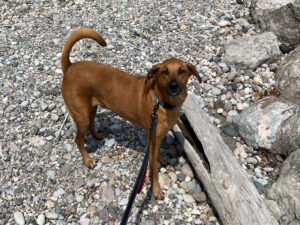 Riley the Dog
Age: 7
Fixed (Spayed/Neutered)? Yes
Weight: 80 lbs
Indoor? Yes
Microchipped? No
City in which animal is located: Saline
Rehoming fee? No
Please note: This is a courtesy listing on HSHV's site. This animal is available through a private individual, NOT HSHV. For questions, please contact the individual below, not HSHV. Thank you!
Looking for a new furever home for our beautiful boy Riley. He'll be 7 in September and is an 80 lb Hound/Basset/Lab mix. He's an active dog who is always up for an adventure, but enjoys a good snuggle at the end of the day!
No experience with cats but currently is living with a ~40 pound lab mix that is submissive and that arrangement is working. He also does great at Dog Parks and Daycare/Kennel. He's a very excited / reactive dog, making him a little hard to manage with small humans present. But, he's NEVER shown aggression towards any human.
If you are interested in adopting Riley, please contact Dakota at 734-474-5802 or dakotasmithsemail@gmail.com. This animal is listed as a courtesy on our site, but is available through this individual. For questions, please contact the individual listed, not HSHV. Thank you!