In the summer of 2021, we adopted Rosie from Tiny Lions. It was a bittersweet moment in our household as our most senior cat at the time, Jessie, was beginning to slow down (she passed away in December). Rosie has a very strong personality, and she made sure all of her feline siblings (all but Jessie are HSHV adoptees) knew that she was the new 'tiny fierce' in our home. She loves the water and will block the sink until you give her a good rinsing. She's also not a morning cat and prefers to steal your warm spot in bed as soon as you vacate it. She goes out adventuring in her pod carrier with my son, and enjoys trips to the pet store. She is absolutely fearless.
We decided a couple of months ago that we wanted to add another kitty to our family so that Rosie had a more age appropriate playmate. My husband and I went to Tiny Lions a couple of times to look at kittens, then waited a bit before trying again. That's when we fell in love with Gilbert Blythe (formerly Taz).
Gil is the sweetest little guy around. He loves to snuggle with people, his feline siblings, and our dog. He purrs nonstop and can be in the middle of playing and stops to come over and briefly check on his humans then darts off again to play. And he absolutely loves Rosie to pieces. Everyone he meets becomes his new friend. We're looking forward to see Gilbert grow and develop more of his personality.
Thank you, Tiny Lions, and HSHV for everything you do!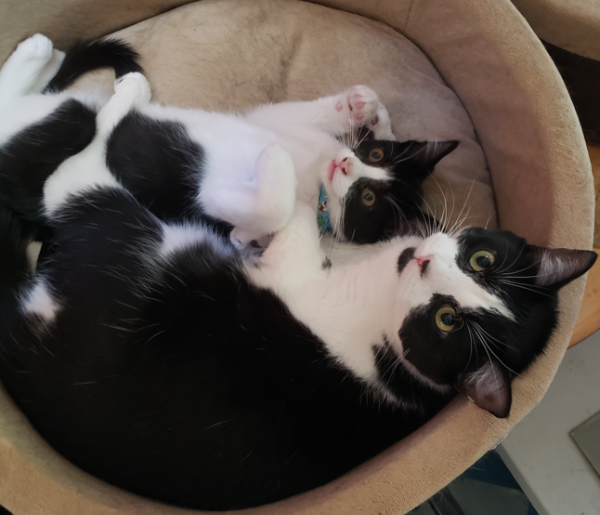 Rosie & Taz now Rosie & Gilbert Blythe