Poor "Sammy" had a tough first year. In 2009, at 3 months old, a man with 2 tearful kids brought him to HSHV as a "stray." Soon after he was adopted, but returned 2 weeks later because he was "too rough on the Lab at home and dug moon craters in his yard." His third family included 2 small kids and a newborn – he was adopted just before closing and was back waiting at the shelter door when they opened the next morning, because he was too much to handle. This little boy had been rejected three times by the age of 9 months, through no fault of his own. He was a baby Beagle with no training, no consistency, no human bond. He wasn't housebroken, he wouldn't look you in the eye, and he didn't want to be cuddled. It's a miracle he survived the "shelter system." The miracle was that he landed at HSHV vs anywhere else.
HSHV decided to advertise "Sammy" as the pet of the week on Petfinder.com. My GSD had recently passed, and my Lab really needed a brother. His ad didn't paint a glowing picture, but I believed Sammy would thrive as a horse farm dog with lots of (fenced and gated) acreage to run. He beat up my poor Lab the entire 1-1/2 hour drive home, peed and pooped all over the car, spent the next year chewing up every piece of furniture in the house, refused to be housebroken, and spent every moment outside digging under the fence and running off. He ducked away from affection and was a tough cookie to love. But, little by little, his hard shell cracked and my shadow emerged.
For the past 11 years, Ollie has become a model little brother, big brother, cat wrangler, horse chaser, bunny poop eater, pond swimmer, is housebroken and can't bear to have me out of his sight.
Ollie is testament that there's a home for every homeless kid if you just have patience…even the really tough ones…and I couldn't imagine my home without him.
Thank you, HSHV, for never giving up on Sammy.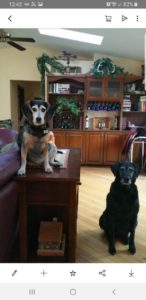 Sammy now Ollie