I really love Dinah's adoption story because it all felt like a whirlwind of fate. My husband and I wanted a second cat to join our solo-cat, Tinker Bell. It was eighth after Christmas in 2018 and we decided to go to some shelters to look around. The first place we went to was closed for the holidays and the second place we went to, all the way in Pontiac, had no kittens. Before driving around more I decided to call some places. Most places had no kittens (because it was so NOT kitten season). I also had a picture in my head of a specific kitten I wanted. This kitten was already named Dinah, from Alice in Wonderland, and was be female and ideally have some orange in her fur, like the character. Of course I wanted one of the rarest cats, an orange female.
Anyway, I called HSHV and the adoption specialist put me on hold a few times because they were having a wildly busy Saturday. I asked if they had any kittens. She radioed another staff member and confirmed that they had one kitten left, a female. "Is there any orange in her coat?" "Yes, orange and white and brown." Good enough for me! They couldn't put her on hold with how busy they were. So that 45 minute drive was do-or-die for getting this kitten. We rushed like crazy from Pontiac back to Ann Arbor. We got there just in time, she was still available! When we went to see her it was so busy we didn't even get a chance to hold her. She was looking pretty shy and reserved, crouched behind her litter mates in the back of the kennel. But we just said "yup, we'll take her!" And then picked her up a few days later after her spay.
It's been four years now, and though Dinah is still shy around visitors, she is otherwise the most loving, assertive, chatty, playful, demanding little thing. Every cat is the best cat. And Dinah and Tinker Bell are also the best cats. We won the jackpot when we chose Dinah. Or, rather, when the universe chose Dinah for us!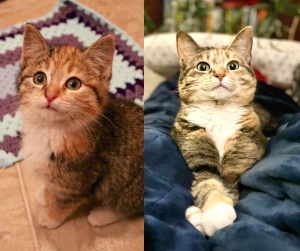 Shining now Dinah