Our family adopted Meadow (formerly Snowflake, thought to be female) from HSHV back in February. We had recently lost our dear sweet cat of 15 years, and really needed some joy in our home. After much research, we decided to shop for supplies and adopt a bunny. We found Meadow at the shelter and adopted him that day!
He has been such a bright ray of sunshine in our home, especially during the beginning of the pandemic. He loves to lay in the bathroom while the kids are brushing their teeth and will often jump on the toilet lid just to hear everyone laugh! He plays a mean game of hide & seek under the beds, and can often be found hiding on the game shelf in the playroom just waiting for someone to play Battle Ship with him. He litter trained very easily, comes when you call him, and is all around just such a wonderful little house bunny!
He's the Mary Poppins of bunnies: practically perfect in every way! Thank you, HSHV!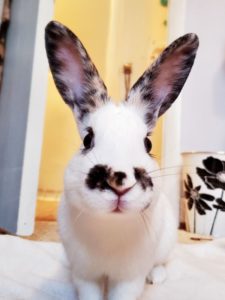 Snowflake now Meadow