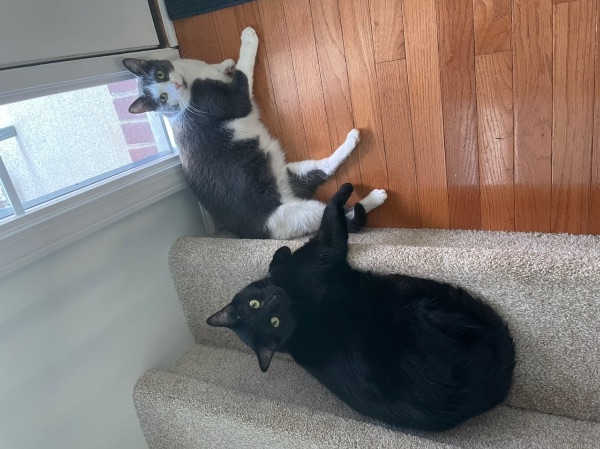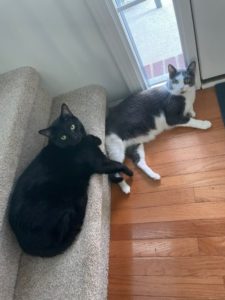 Stormy & Soot now Marceline & Mortimer
We adopted Marceline (Stormy) in June of 2017. When we first walked in the door, there was a cage by the front area and a little white arm shot out and batted at the paperwork on the front. My husband said, "I want that one!" Little did we know, that was our Marci! We went to see another cat whose picture I had seen online but she didn't seem like a good fit, so we decided to come back to see the one by the door. We took her out of the cage and she sat happily in my husband's lap. It was only 15 mins before closing, and we decided to take her! Four and a half years later and she is the sweetest, funniest, most loving cat we could have ever asked for!
We went back 7 months later in January of 2018 to "look" for another cat. We all know what "looking" actually means! We opened the door to the kitten room and a little voice rang out. We walked to the back and there was Mortimer (Soot). He was so new that he didn't even have paperwork on his cage yet. We took him out of the cage and he immediately curled up in my husband's lap and went to sleep. He wasn't neutered yet so we waited two days before coming back to get him. Four years later and he is the most loving, affectionate, social cat in the world. Our cats are best friends and groom each other and play all of the time! We are so lucky to have found them both and are so grateful to HSHV!
Marci is the gray and white cat, Morti is the black cat!