Clover came home with us about a week ago now. Our existing dog, Nadine, wasn't certain about it, but now, they're best playmates in the backyard! Clover loves to chase Nadine and play with anything squeaky. She tears apart toys like it's her job.
Clover also hangs her tongue out of the side of her face and sits sideways like a goof. And her lil butt wiggles are so funny!
She's a great addition to our crazy family, and we wouldn't have it any other way.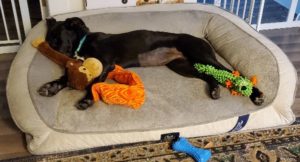 Stormy now Clover