My husband and I adopted Lucy (formerly Suzie) one year ago today! Last year, our house seemed so empty and quiet after our sweet golden retriever died the year before, we became empty nesters, and my husband retired. Not having a lot of experience with dogs, we were looking to adopt a retriever-type dog, and one finally popped up on the website. When we met Suzie that weekend, we fell in love and brought her home the same day.
We renamed her Lucy and got down to business getting to know this dog. She is super smart and well behaved, and loves to go on walks. At first we had to take her in the dark as she would bark at every car that went by, but over time she settled down and now helps my husband get at least 10,000 steps a day! She loves our (older) kids when they come to visit, and has won over most of our neighbors by trying to keep the squirrels away, and announcing everyone's Amazon and Fed Ex deliveries!
It's only been a year, but I can't imagine life without her. I am so grateful for the family that surrendered her, she is a great companion for us.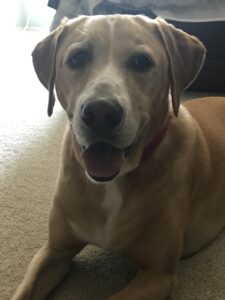 Suzie now Lucy