I bought my own home Dec. 2018. It is the 1st time in my life I had ever lived alone (I'm 53 y.o.). I have had many pets over the years & had my mind set on a bully breed, even with the stereotypes and discrimination. I spent months looking through the internet, shelters and rescue groups and had not been able to find the dog I thought I wanted.
My sister had visited HSHV many times over the years and recommended I do a pre-application for a Love Train puppy. I received emails and pictures weekly, which was incredible, and made me want to visit the website to see ALL the adoptable pets. I did this December and January, and by the beginning of February I had seen a picture of the cutest little girl. She was approx. 2 1/2 years old (NOT a puppy), and she was a Pug/ Beagle mix. NOT a bully breed.
Her eyes, that face- OH MY GOSH. I was truly in love. I saw her pic 1st week in February and again on Valentine's Day. I showed my friend and he said "I'm taking you to Ann Arbor as soon as they open." On Feb 15th, the next day, I brought Baby Girl (formerly known as Tina) home. When I first saw her in person at HSHV I knew that this was going to be my BFF. She was an absolute perfect fit. Even though she had a few issues (separation anxiety, needs a yard/outside area and lots of kindness, attention, love and some training). We worked on all those things together and I fit her requirements perfectly.
There isn't one day that goes by that she is not by my side – in the yard, on the couch or sleeping in our bed…even though she has to share my favorite pillow and blanket!! Lol.
I know that our relationship was meant to be and I am so grateful to the staff and volunteers at HSHV for all their dedication and hard work.
It brings tears of joy to my eyes knowing that my Baby Girl is my friend & companion. In the end, the title should be
SHE RESCUED ME !!!
⭐⭐⭐⭐⭐ A+ to this facility & staff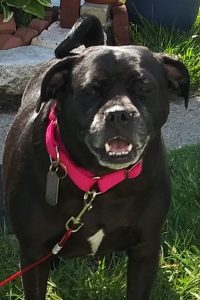 Tina now Baby Girl