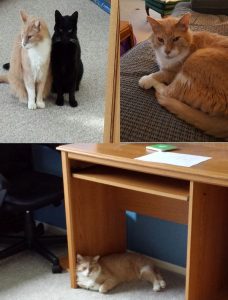 Back in August of 2013, we adopted Remington "Remy" Steele from HSHV. Back then his name at the shelter was Walter and he lived in the admin offices. This was before the offices became the sanctuary for FeLV cats. Remy came into the shelter in April of 2013 and it was the practice back then to give long term kitties a break from living in a cage while waiting to be adopted.
We really don't know his back story when he joined our family at the age of 8 in August of 2013. But we do know that at one time, he belonged to someone since he came to the loving Humane Society of Huron Valley shelter already neutered as a stray cat. Remy was a warm and loving kitty, and he got along quickly with Indy the family black cat. He was also very close to my son which is evident from the picture of Remy under the desk in the bedroom while my son was away at college.
So when my son moved out to begin living his adult life, it only made sense that Remy join him on this next chapter in their lives. As with a lot of senior kitties, Remy had to combat aging diseases. He had both hyperthyroidism and chronic kidney disease. These 2 diseases worked against each other and took a toll on Remy and his health. In November of 2018, Remy passed away and joined his brother Indy, who passed away earlier in 2018, over the rainbow bridge.
Walter now Remington "Remy" Steele