Humane Society of Huron Valley sees its lowest return-to-owner rate in years
Ann Arbor, MI (March 21, 2023) — Dogs getting lost in Washtenaw County haven't been so lucky lately.
The Humane Society of Huron Valley (HSHV), the only shelter in Washtenaw County and Plymouth for stray animals, has seen a significant decrease in the number of animals returned to owners this year.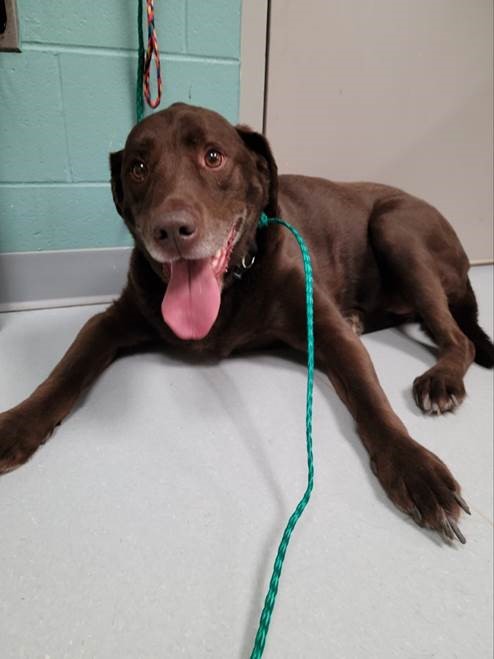 While HSHV has been taking in more lost/stray animals than in past years, in 2023, the shelter has only been able to return 43% of lost dogs to owners; that's the lowest in over 20 years.  An increasing number of dogs are coming in without tags or microchips, or if they do, they have incorrect information.
Hershey, a chocolate lab mix, was wandering around the Barton Hills area of Ann Arbor about a week ago. He came right up to a finder and sat on their porch as if to ask them to call his family, but he had neither a tag nor a microchip.
Lack of identification is ongoing problem for cats as well, who are even less likely than dogs to have a tag or microchip.
"This is preventable heartache. As an organization taking in lost animals, we believe our first job is to get animals back to the loving families they already have," says Tanya Hilgendorf, HSHV's CEO. "Animals can't tell us their address or their mom's name. Their best ticket home is identification. Microchips result in hundreds of family reunions here at HSHV, are safe, inexpensive, and usually last a lifetime."
Owners can get their pets microchipped at any veterinarian's office or for only $20 at HSHV's Low Cost Vaccine Clinics, held monthly. Microchips are not GPS-enabled and cannot do location tracking, but help identify ownership. Tags are highly encouraged, too, though sometimes they can get torn off when pets scale fences or other terrain traveling.
"It's estimated that 1 in 3 pets gets lost sometime in their lifetime," says Hilgendorf, "So this happens to even the best pet owners. We can't emphasize the importance of microchips enough—along with ensuring your contact information is updated."
A national study of more than 7,700 stray animals in shelters showed stray dogs with microchips were more than twice as likely to be returned to their owners; cats more than 20 times. Some cities like Houston and states like Hawaii have mandated pet microchipping. No city in Michigan requires microchips.
In addition to ensuring they have tags and microchips with current contact information, HSHV also reminds people if they find or lose an animal to immediately make a report in hopes they can make more happy family reunions happen. Pet lost and found reports can be made at hshv.org/lostandfound or by calling 734-661-3545.  More information on helping find a lost pet as well as listings of pets found can be found on their website and Facebook page.
"This troubling trend also adds to the overcrowding that we and other shelters are experiencing right now," says Hilgendorf. "These pups and kitties should be going back home, not sitting in our shelters waiting for new homes."
###
About The Humane Society of Huron Valley:
The Humane Society of Huron Valley, located in Ann Arbor, is an independent 501(c)(3) non-profit organization and relies solely on the generosity of our supporters to provide critical community programs and services. HSHV is an award-winning organization, recognized for our best practices and highest animal "save-rate" among all similar shelters in Michigan. Charity Navigator, the nation's top charity evaluator, awarded HSHV a 4-star ranking, the highest possible. The mission of HSHV is to promote the loving, responsible care of all animals in our community. HSHV is not affiliated with any other humane organization and does not receive funding from the United Way. More information can be found on HSHV's website (hshv.org) and on our annual report (hshv.org/annualreport).