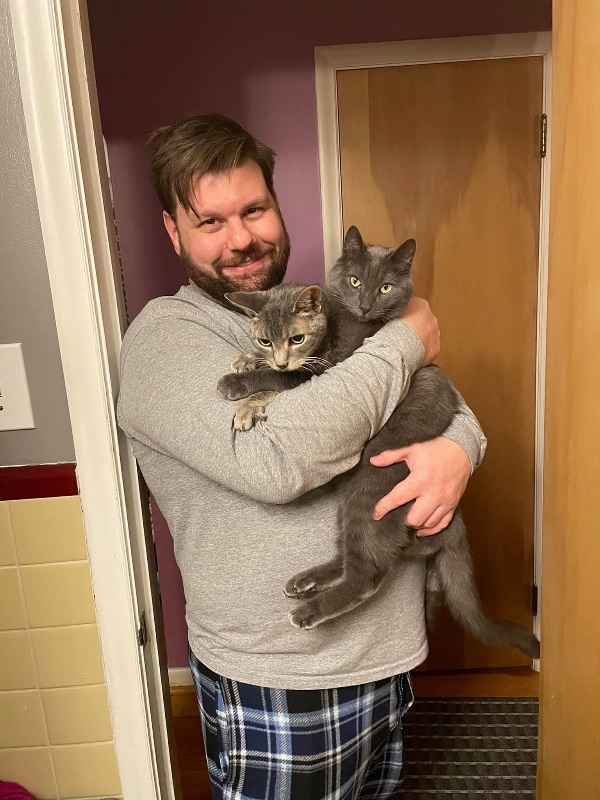 Yohan & Smokey now Yohan & Emilio
I never had cats growing up, always dogs. But then, when I was visiting my wife (fiancée at the time) in Ypsilanti, I grew fond of her roommate's cat (a sweet little tortie named Sam).
In January of 2012, I decided that I wanted a cat of my own. We visited the HSHV and the staff unanimously recommended a lovable older cat named Yohan. Yohan was eight years old at the time. He immediately came out to greet us and even curled up in our laps. I took him home that very same day. It didn't take long for us to become buddies.
Ten years later, Yohan — the striped domestic shorthair — is now eighteen years old and going strong. He is the sweetest cat, happiest when he can curl up on our laps and purr to his heart's content. I like to think of him as my very own ambassador to cats, as he taught me all about cat behavior and has represented his species in the best possible ways.
In fact, Yohan was such a good catbassador, that several months later we decided to adopt another one. Enter: Emilio (or as he was known when we met him, Smokey). Emilio (the beautiful all-gray kitty) was in a room with several other cats, but he came to greet us first by weaving in and out of our legs. To this day, Emilio is a wonderful host to any visitor that comes by the house! Almost 12 years old, Emilio is so funny, smart, lovey, and has formed strong bonds with our children.
We are so grateful to have Yohan and Emilio in our lives. They bring us joy, laughs, and love every single day. Our family would not be complete without them!