Ann Arbor, MI (July 28, 2023) – A 10-month-old puppy was found abandoned in a blanket-covered crate in Ypsilanti's Recreation Park Tuesday. The Humane Society of Huron Valley is conducting an investigation, actively seeking tips from anyone who might have information.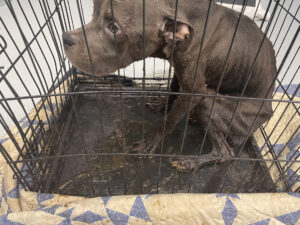 Two good Samaritans saw the crate on the side of the road, near a wooded trail, covered in a blue and tan quilt (see picture). The puppy is now at the Humane Society of Huron Valley (HSHV), where he's being cared for and treated.
The severely emaciated puppy was covered in diarrhea and urine.  After bathing him, HSHV's medical team found multiple sores all over his body, limbs and tail.
This is the second puppy found abandoned in Washtenaw County this week, though they do not appear to be related.
"This happens more than people think in Washtenaw County," says Eric Wright, Rescue and Cruelty Investigations Supervisor at HSHV. "People just abandon their animals.  It's sad and frustrating, but it doesn't have to be that way."
Anyone with information related to this incident is strongly encouraged to contact HSHV's Cruelty and Rescue Department at (734) 661-3512. Alternatively, information can be reported online at hshv.org/report. All tips and leads received will be investigated.
"We completely understand people falling on hard times, but please for the animal's sakes—like this innocent young puppy—don't just leave them to starve and suffer in pain—please bring them to us," says Tanya Hilgendorf, HSHV's CEO. "Our intake department is open 7 days a week. And thanks to donors, we also have many programs to help people feed and care for their pets."
Staff and volunteers report the puppy is scared, but super sweet and "just wants to cuddle." He also couldn't get his first meal down fast enough.
More information on programs at HSHV including animal intake, the Bountiful Bowls pet food pantry, assistance with veterinary care and temporary housing can be found at hshv.org.
###
About The Humane Society of Huron Valley:
The Humane Society of Huron Valley, located in Ann Arbor, is an independent 501(c)(3) non-profit organization and relies solely on the generosity of our supporters to provide critical community programs and services. HSHV is an award-winning organization, recognized for our best practices and highest animal "save-rate" among all similar shelters in Michigan. Charity Navigator, the nation's top charity evaluator, awarded HSHV a 4-star ranking, the highest possible. The mission of HSHV is to promote the loving, responsible care of all animals in our community. HSHV is not affiliated with any other humane organization and does not receive funding from the United Way. More information can be found on HSHV's website (hshv.org) and on our annual report (hshv.org/annualreport).